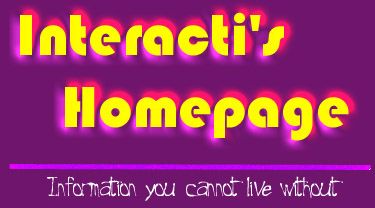 Welcome to my new homepage!
Here you can find all kinds of interesing information on me and
other things. Enjoy!
Please click on the banner at the bottom to support Tales From The Tower.
New catagory! Currentlty only accesable from this page.
About the catagories:
Here you can find informtion about me, who I am, What I do, my interests, etc.
In addition you can find a photo of me.
| | |
| --- | --- |
| | This sectoion contains scans of some of my photographic works. Some of them are liked by people who do photography for a living. |
| | |
| --- | --- |
| | For many years I have programmed in Microsoft QuickBasic. Here you can find some of my programs, and other information. In addtion you will find information on programming for Windows and some programming in C. |
| | |
| --- | --- |
| | Files! What webpage is complete without them. You can find some cool files, including the funky font used in my graphics. |
| | |
| --- | --- |
| | This is where you can find some interesing links. |
| | |
| | This is where you can find some interesing links. |
Quesitons? Comments? Try E-MAIL!!!
interacti@meganet.net